When we renovated our 19th-century stables into accommodation, the interior was a blank canvas, requiring a complete overhaul from scratch. So it was vital to find a renowned interior designer, and we had the excellent idea of calling on Émilie Maltoff, founder of EM Architecture & Design.
Who is Émilie Maltoff ?
First, Émilie explored scenography as a decorating assistant. She then turned to architecture, working in various agencies such as SD Concept and Culture in Architecture. For a decade she worked brilliantly with Julie Gauthron at Exquise Esquisse.
Today, Émilie runs her own company, EM Architecture & Design. Émilie has a passion for materials, colours and volumes, and designs spaces that optimise every nook and cranny while respecting constraints. Her exceptional talent and dedication to excellence make her one of the best interior designers.
Emilie, an essential partner for an exceptional interior
Indeed, Émilie played an invaluable role in our project at the Château. Thanks to her artistic talent and interior design expertise, Émilie succeeded in transforming this historic site into a modern, welcoming space, while preserving its old-world charm. Her creative and innovative approach made the most of the space and materials. The result is a functional and aesthetically pleasing space that perfectly meets the needs of its occupants.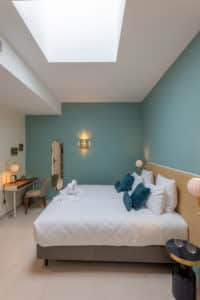 From concept to completion, Emilie meticulously oversaw every stage of the project, ensuring that every detail was carefully considered. Through her commitment to excellence, Emilie has created a remarkable accommodation space, combining luxury and history.
Finally, find out about other valuable partners involved in this project, such as DeltaBuy, Sylvio Moizo (ECL) and Ekilux.