Our collaboration with Sylvio Moizo and his team at ECL began long before we met. He prepared the Château for our move in 2013. Since then, he has become our regular electrician for every renovation, project and adjustment. Sylvio is a trustworthy partner who is always looking to offer quick and efficient solutions. His constant presence is an essential asset in ensuring the smooth electrical running of our establishment.
Sylvio Moizo and his ECL team: an essential partner for the electrification of the Château and the accommodation area
Under the direction of Sylvio Moizo, the ECL team of electricians in Lambesc played a crucial role in fitting out the accommodation at Château La Beaumetane. Their expertise in electrical installations ensures that the top-of-the-range equipment operates safely and efficiently. They're in-depth knowledge of safety standards and know-how ensure a reliable and energy-efficient electrical system. Thanks to their valuable contribution, our guests enjoy a pleasant, comfortable and carefree stay, where every detail is taken care of with professionalism.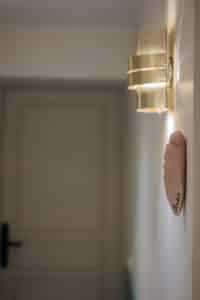 Thanks to Daniel Pelcat for this photo
An Essential Partner: Sylvio Moizo and his Team, Key to Success
Sylvio and his team have been absolutely indispensable throughout this project, and their importance will only increase in the future. Their dedication, expertise and hard work were crucial in overcoming the challenges and achieving the objectives set. Moreover, their ability to collaborate effectively, demonstrate creativity and adapt to changing circumstances was crucial to the success of the project. Thanks to their involvement, the Château La Beaumetane accommodation space is now living up to our aspirations.
Over the years, Sylvio has shown remarkable determination by continually honing his skills. He has deepened his knowledge, developing his expertise. Thanks to his willingness to progress, he has played a key role in the success of the project. His commitment to improvement will continue into the future, and so will our partnership.
Here are some of the other partners who worked with us on this project: Ekilux, the lighting designer, and DeltaBuy, the interior design team.